'I use active learning, but my class is not always active': Secondary School English Teachers' Perceptions of Active Learning
Keywords:
perceptions, implementation, active learning
Abstract
Active learning is highly appreciated as effective learning and it has been encouraged worldwide. This study aims at investigating secondary school English teachers' perception and implementation of active learning in their situations. The participants were 10 secondary school English teachers in the northeast of Thailand who reported in the online survey that they were familiar with active learning and were willing to participate in the study.  They were interviewed for in-depth information about active learning in their point of views and their practice. The interview results were analyzed for themes. Salient cases were also reported and discussed. The findings revealed both similarities and differences of the participants' personal interpretation of what active learning is and is not. Most of them viewed that active learning covered both physical and cognitive aspects of learning suggesting that active learning is not always observable. Most of them also expressed concern that their classes were not always active. The teachers' perceptions and implementation of active learning displayed complex and multifaced aspects of active learning that required more careful attention in both teacher education and teachers' professional community.
References
Allen, D.E., & Tanner, K.D. (2003). Learning in context: problem-based learning. Cell Biol. Educ., 2, 73–81.
Allsop, J., Young, S. J., Nelson, E. J., Piatt, J., & Knapp, D. (2020). Examining the Benefits Associated with Implementing an Active Learning Classroom among Undergraduate Students. International Journal of Teaching and Learning in Higher Education, 32 (3), 418-426.
Bonwell, C.C., & Eison,J. A. (1991). Active learning: Creating excitement in the classroom. ASHE-Eric Higher Education Report No. 1. Washington, DC.: George Washington University.
Bonwell, C., & Sutherland, T. E. (1996). The active learning continuum: Choosing activities to engage students in the classroom. New Directions for Teaching and Learning, 1996(67), 3-16.
Carson, R. N. (1995). Active Learning. Montana: Montana State University.
Crews T. B., Ducate L., Rathel J. M., Heid K., & Bishoff S. T. (2011). Clickers in the classroom: Transforming students into active learners. Retrieved on Jan 31, 2022, from https://its.unl.edu/pdfs/Educause%20SRS%20success.pdf
Drew, V., & Mackie, L. (2011). Extending the constructs of active learning: Implications for teachers' pedagogy and practice. Curric. J. 22, 451–467.
Fern, V., Anstrom, K., & Silox, B. (1993). Active Learning and the Limited English Proficient Student. Bethesda MD: National Clearing House for Bilingual Education.
Leu, E., & Price-Rom, A. (2006). Quality of education and teacher learning: A review of the literature.
McKinney, K. (2007). Enhancing learning through the scholarship of teaching and learning: The Challenges and the joys of juggling. San Francisco: CA: Anker.
Nata, N. & Tungsirivat, K. (2017). Active learning for language skills development. International (Humanities, Social Sciences and Arts), 10(5), 506-515.
the Office of the Basic Education Commission. (2020). OBEC Policy of 2020. Retrieved on November 24, 2021, from http://www.bopp.go.th/?cat=25#
Page, M. (1990). Active learning: Historical and contemporary perspectives. Amherst, MA: University of Massachusetts.
Petersen, C. I. & Gorman, K. S. (2014). Strategies to Address Common Challenges When Teaching in an Active Learning Classroom. New Directions for Teaching and Learning, 137, 63-70.
Prince, M.J., & Felder, R.M. (2006). Inductive teaching and learning methods: Definitions, comparisons, and research bases. J. Eng. Educ. 95, 123–138.
Rimm-Kaufman, S., Baroody, A., Larsen, R., Curby, T., & Abry, T. (2015). To What Extent Do Teacher-Student Interaction Quality and Student Gender Contribute to Fifth Graders' Engagement in Mathematics Learning?. Journal of Educational Psychology, 107, 170-185.
Scheyvens, A., Amy, L., & Griffin, B. (2008). Experimenting with active learning in geography: Dispelling the myths that perpetuate resistance. Journal Geography in Higher Education, 32(1), 51-69.
Trowler, V. (2010). Students Engagement Literature Review. York: The Higher Education Academy.
Wimpenny, K. & Savin-Baden, M. (2013). Alienation, agency and authenticity: A synthesis of the literature on student engagement. Teaching in Higher Education. 18(10), 1080.
Youpensuk, N. & Laiprasertporn, N. (2018). The usage of P.I.L. active learning model on body organ system of grade 6 science class of demonstration school. In The 2020 International Academic Multidiscipline Research Conference in Lucerne, pp. 142-149. Bangkok: Suan Sunandha Rajabhat University, Thailand.
Yuusuk, S. (2020). An Implementation of Active Learning in Thai University Students' English Language Classroom. Journal of Liberal Arts, Maejo University, 9 (1), 112-135.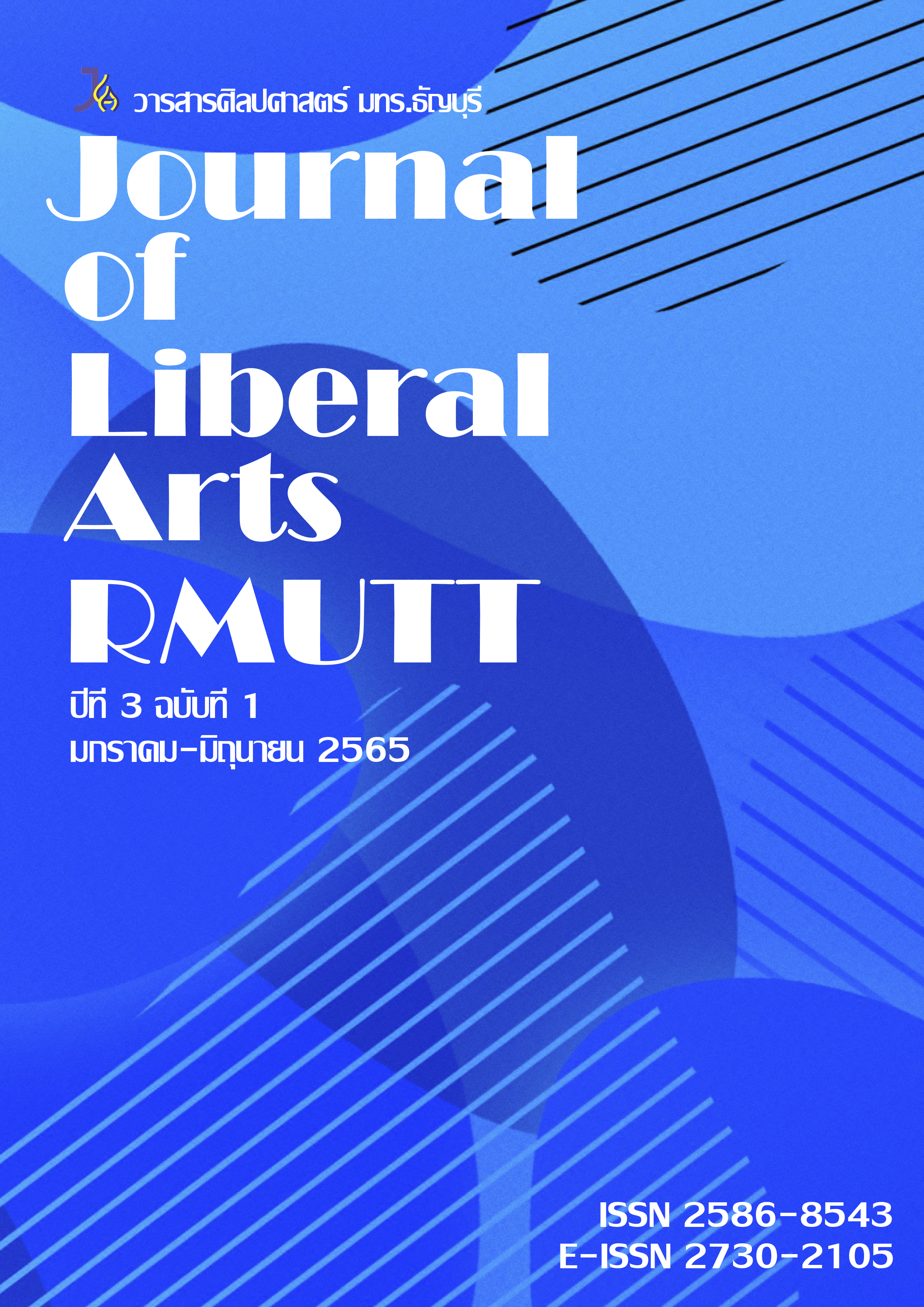 Downloads
How to Cite
Chanchaloem, P., & Tepsuriwong, S. (2022). 'I use active learning, but my class is not always active': Secondary School English Teachers' Perceptions of Active Learning. Journal of Liberal Arts RMUTT, 3(1), 66–82. Retrieved from https://so07.tci-thaijo.org/index.php/JLA/article/view/1542
License
Copyright (c) 2022 Thai Journal Citation Index Center
This work is licensed under a Creative Commons Attribution-NonCommercial-NoDerivatives 4.0 International License.