FACTORS AFFECTING STUDENTS' SATISFACTION WITH ART EDUCATION MANAGEMENT IN HIGHER EDUCATIONAL INSTITUTIONS : A CASE OF LIAONING UNIVERSITY LIAONING PROVINCE, CHINA
คำสำคัญ:
Teacher leadership, Organizational innovativeness, Students' satisfaction, Art education management, Higher education
บทคัดย่อ
The popularization of higher education policy in China over the past decades not only increased the opportunity for higher learning among young generation, but also put pressure on colleges and universities around the country to strengthen their management. The objectives of this research were to: (1) Assess the students' satisfaction with art education management in Liaoning University; (2) Determine the factors affecting such satisfaction; (3) Analyze and compare the relationships among those influencing factors identified, in relation to different art majors; and (4) Evaluate the models fit. This study used a quantitative survey method. A multi-stage random sampling was employed to select 339 samples from art students enrolled in various art majors in Liaoning University in 2021. Semi-structured, self-rating questionnaires were used to collect data. Statistics used for data analysis included frequency, percentage, mean, standard deviation and path analysis respectively.
          The results showed that: (1) Art students were highly satisfied with art education management in Liaoning University, with average scores on the Likert-typed scale of 4.18 (S.D. of .68); (2) The influencing factors of satisfaction included years of study, teacher leadership and organizational innovativeness; Though academic achievement was also affected by these variables, it had no significant relationship with students' satisfaction. In addition, teacher leadership also significantly exerted its influences over students' satisfaction indirectly via years of study and organizational innovativeness; (3) Only students in Photography and Art Performance majors showed significant differences in satisfaction from those peers in Art Design, Radio and Television Editing, and Broadcasting and Hosting Art majors, while those in Folk Arts showed no differences; and (4) The model is consistent with empirical data.
References
College enrollment network. (2021). Retrieved from http://www.eduzs.org.cn/index.html.
Guochunfang. (2019). Aesthetic education and Art Education-Thoughts on the characteristic development and national service strategy of comprehensive art colleges in the new era. Journal of Northeast Normal University (Philosophy and Social Sciences), pp. 22-28.
Liangjiu. (2020). The three primary tasks of "art education" researchers in art theory. Journal of Aesthetic Education, pp. 20-26.
Liaoning Provincial Department of Education. (2021). Retrieved from: http://jyt.ln.gov.cn/.
Liu Shanshan, S. (2019). Innovative research on the integration of Chinese excellent traditional culture into art education courses in Colleges and Universities. Art Education, pp. 267-268.
Ministry of Education of the People's Republic of China. (2021). Retrieved from : http://www. moe.gov.cn/.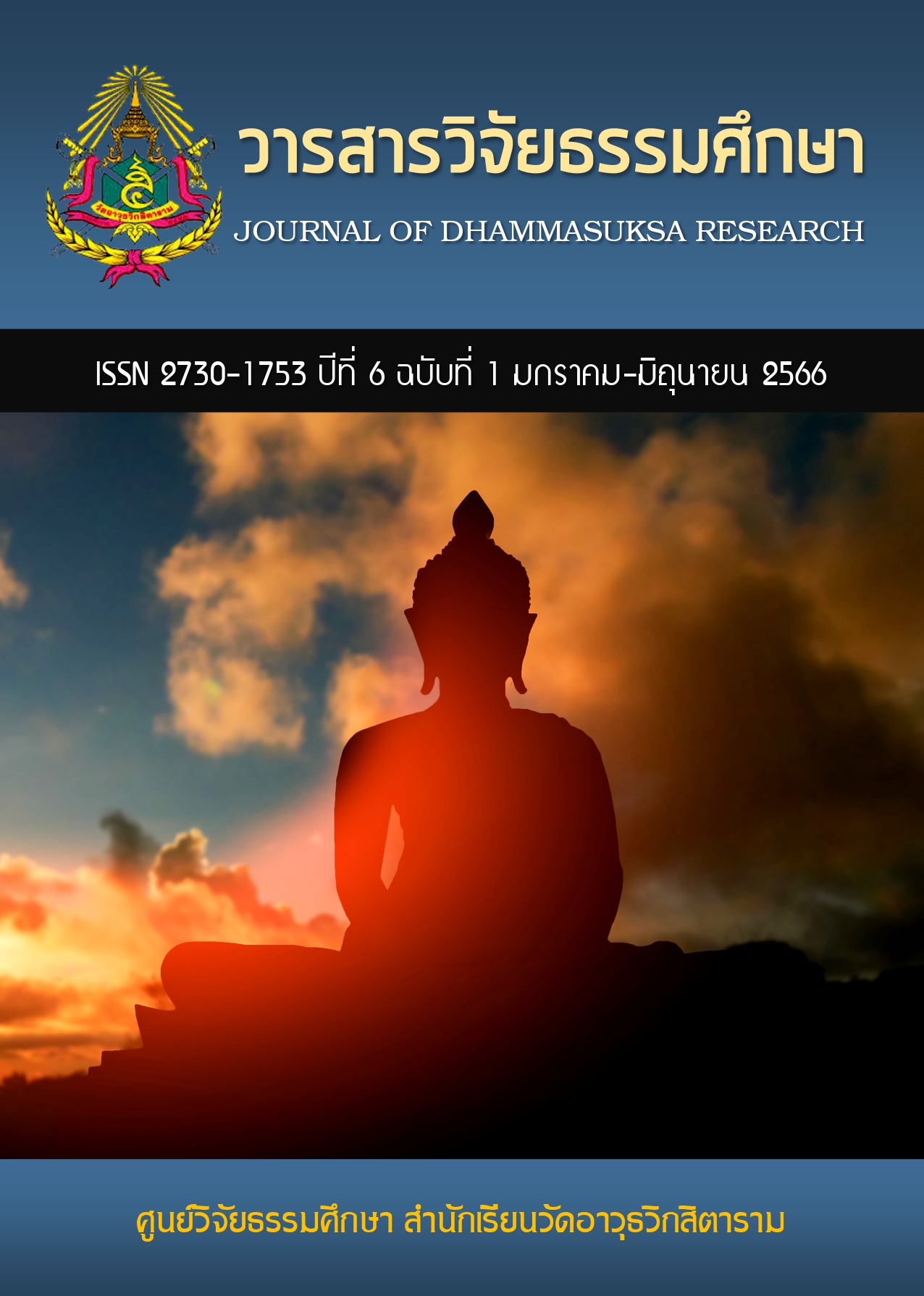 Additional Files
License
Copyright (c) 2023 วารสารวิจัยธรรมศึกษา
This work is licensed under a Creative Commons Attribution-NonCommercial-NoDerivatives 4.0 International License.